Péter Iványi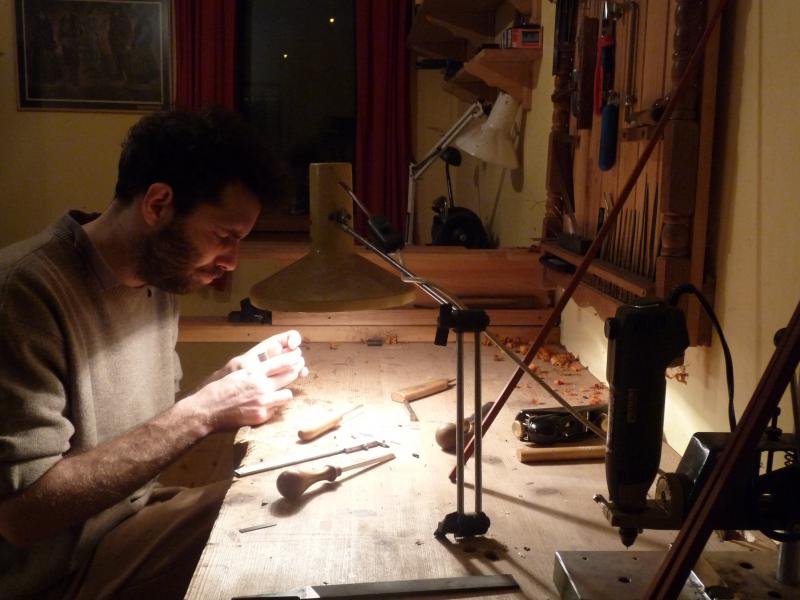 PÉTER IVÁNYI
1977 - Born in Nyíregyháza.
1981 - Started his musical studies playing the violin.
1983 - Attended the Musical Primary School in Nyíregyháza. He sang in several choirs and played in student orchestras. His teachers included Dénes Szabó, Kossuth and Liszt Prize awarded music educator and choirmaster.
1992-1994 - Trained to be a cantor and a choirmaster.
1995 - Completed his secondary education as a violin student at the Secondary School of Art in Nyíregyháza.
1999 - Became involved in with the profession in the workshop of Barnabás Rácz in Gödöllő where he restored old Italian and German master double basses.
2000-2003 - Studied at the Musical Instrument Making School of the Franz Liszt Music Academy.
2001 - Met Bernd Etzler and commited himself to the bow making profession.
2006 - Ran his own workshop but continued working in the Etzlers' too.
2013 to date - Working independently in his workshop in Zebegény producing bows and restoring old French bows.
Stamp IVÁNYI P.