Two bowmakers from Hungary won four awards in Amsterdam
The 1st International "Darling" Bowmaking Competition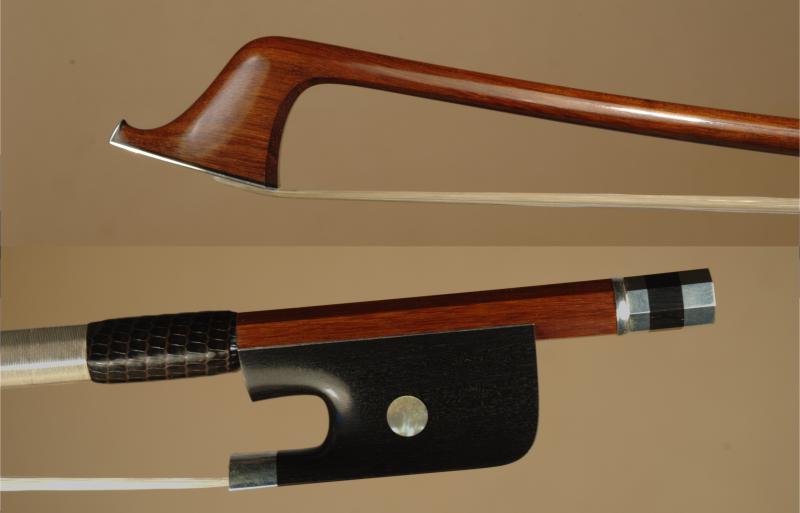 Tibor Kovács cello bow, Eric Fournier-Grand Prix, Bernd Etzler-Grand Prix
The award ceromony of the 1st Darling International Bowmaking Competition took place in Amsterdam on the 7th of May. Below are the winners of the Workmanship Awards
Alexandre Aumont
-The Tibor Kovacs-Grand Prix for Cello Bow
Emmanuel Bégin
– The Tibor Kovacs-Grand Prix for Violin Bow
– The Eric Fournier-Grand Prix for Violin Bow
– The Robert Morrow-Grand Prix for Cello Bow
Bernd Etzler
– The Eric Fournier-Grand Prix for Viola Bow
–The Pierre Nehr-Grand Prix for Violin Bow
Eric Fournier
–The Robert Morrow-Grand Prix for Violin Bow
–The Bernd Etzler-Grand Prix for Violin Bow
–The Robert Morrow-Grand Prix for Viola Bow
–The Bernd Etzler-Grand Prix for Viola Bow
Boris Fritsch
– The Tibor Kovacs-Grand Prix for Viola Bow
Tibor Kovacs
–The Eric Fournier-Grand Prix for Cello Bow
–The Bernd Etzler-Grand Prix for Cello Bow
Cody Kowalski
–The Pierre Nehr-Grand Prix for Viola Bow
–The Pierre Nehr-Grand Prix for Cello Bow
A competition with new ideas
Andy Lim's basic conception for the Workmanship Prize judging was simple, clear, honest and included several never-before-seen innovations.
The competition bows were (obviously) anonymous. It is, however, impossible to avoid the fact that one can recognize some bows as the work of specific colleagues, or at least have an idea about who may have made a bow. This was the case as I worked my way through the bows. With one of the bows which I had awarded a prize, I found at the award ceremony that I had correctly recognized the bowmaker, and that my "hunch" had been correct. With the other two, I only discovered who had made the bows I selected at the award ceremony itself.
There were 5 bowmaking judges chosen, all of whom were taking part in the competition. The idea is novel. Nobody should have the right to decide who wins a prize, without putting their own work up to the same scrutiny. The judges were Bernd Etzler, Eric Fournier, Tibor Kovács, Robert Morrow and Pierre Nehr.
Andy had assembled the jury in such a manner, that every member came from a different "nest" [school].
Every juror guarantees the honesty of their decisions with their own name. It is practically impossible to be any more transparent!
None of us has, to date, been a jury member. The question remains, does one see the same names so often as prizewinners, because a close circle of well known and respected Jurors have reached a consensus on a generally-accepted "taste", and will there be surprises, or is it the case that between colleagues, our differences in style and points of view after one analyzes the work of many colleagues become more uniform?
There were no great surprises among the results.
Let's begin with Eric Fournier. This young and extremely talented bowmaker won the greatest number of prizes in Amsterdam, with a total of 4. In the long-established VSA Competition in 2014, Eric was just as successful, with 3 gold medals and a Certificate of Merit, he was the most successful of all the participants. In Amsterdam he was a Juror, but not in America.
Emanuel Begín, just as gifted as his best friend, Eric Fournier, won three awards in Amsterdam. At the last VSA competition, he received 2 gold medals and 2 Certificates of Merit.
This was also not the first prize that Alexandre Aumont, Boris Fritsch, or I have ever been awarded.
There were also 2 small surprises : Cody Kowalski, a 21 year old student of Charles Espey, was the youngest prize-winner in Amsterdam.
Also, Tibor Kovacs; It is not surprising that he received 2 prizes, but rather that Andy succeeded in persuading him to participate at all. Tibor does not like taking part in competitions, and has never before entered his work.
All Jurors were very diligent in their work, and had to make their decisions alone, by themselves. We were only made aware of our fellow Judges' favorites at the award ceremony. It was, of course, not a way to reward each other for our own work. That one half of the prizes went to Jurors themselves only speaks to how well, and broadly, Andy selected the jury. As a team of experienced colleagues, they have all proven (not only in Amsterdam) that they are Masters in their craft.
The Playability Awards
Each maker could send in maximum 2 bows, either for violin, viola or cello, The bows were played by a musician, who did not know the identity of the makers. After the playing time of 2 hours the favorite bow was bought by the player for the amount of € 4000,-, which goes 100% directly to the maker.
In this Competition we have only Player Jurors which we take serious, that means whos Coup de Coeur is also confirmed as a Coup de Portmonnaie.
The Winners of the 7 Playability Awards
Rachel Buquet " Coup de Coeur" violin bow
Eric Grandchamp
choice II Joseph Gabriel
final round of playability favorites: Dominic Wilson
Klaus Giebels "Coup de Coeur" violin bow
Luca Slaviero
choice II D. Wilson
Rudolf Nottrott "Coup de Coeur" violin bow
Eric Fournier
choice II Pierre-Yves Fuchs
final round of playability favorites: Joseph Gabriel, Pierre Nehr
Teriyoshi Shirata "Coup de Coeur" violin bow
Mitsuaki Sasano
choice II Pascal Camurat
Cheryl Swoboda "Coup de Coeur" viola bow
Emmanuel Carlier
choice II Dirk Löscher
final round of playability favorites: Bernd Etzler, Eric Fournier
Eva Böcker "Coup de Coeur" cello bow
Alexandre Aumont
choice II Cody Kowalski
final round of playability favorites: Emannuel Begin, Tibor Kovacs, Vladimir Mukhin, Dominic Wilson
Michael Veit "Coup de Coeur" cello bow
Joseph Gabriel
choice II Jan Strumphler
final round of playability favorites: Julian Dirr, Henk te Hietbrink
Lastly, and once again, I would like to state that the Exhibition and Competition in Amsterdam were sensational! It is very seldom, that you can see so many fantastic things in one place. Even better, it is fantastic to meet with all of my friends and colleagues from around the world. I thank Andy and Harm, and everybody who was involved in the work that has created this wonderful project.